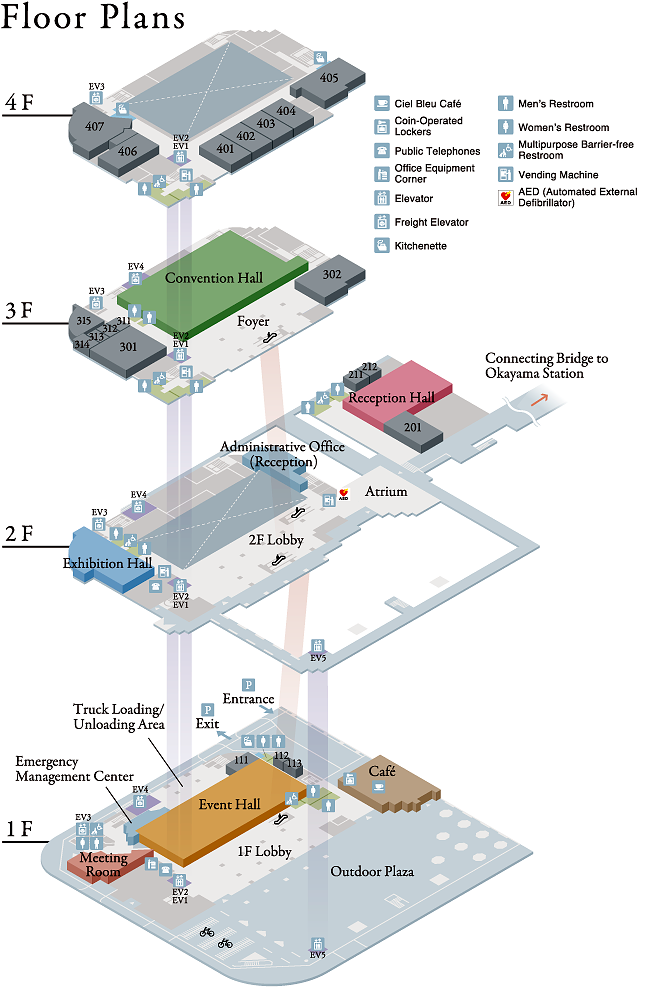 Convention Hall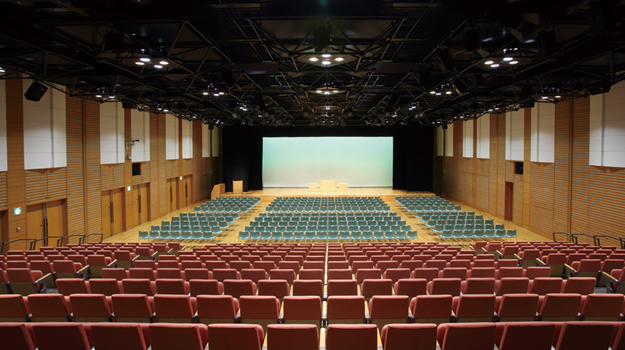 With storable seating and stage, the convention hall can be used not only for large-scale academic conferences, commemorative ceremonies and seminars, but also for classroom-style examinations and parties that require single-level flooring.

Decorations, lighting and audio can be adjusted in accordance with the specifics of the event.

The seating in this hall retracts into the rear wall. By lowering the stage, the entire space can be used completely level.

The stage rises and descends automatically, and its height can be adjusted.

The foyer outside the hall can be used as a break area between seminars.
Event Hall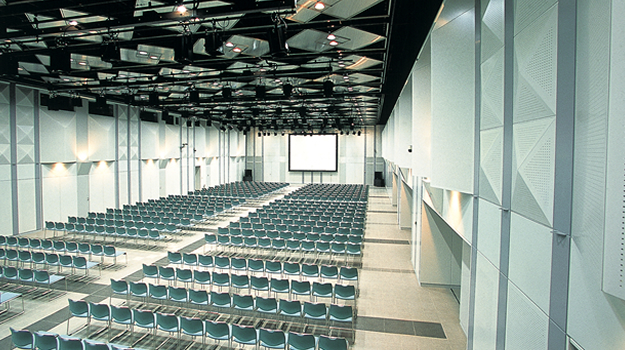 The event hall can be used for a variety of functions, including trade fairs and booth exhibitions, academic conferences, commemorative ceremonies and examinations. It can accommodate both theater-style and classroom-style seating. It is also conveniently designed for transporting large display pieces thanks to its direct access to the truck delivery entrance.

An attractive-looking event space can be maintained, as pipes and cables are laid in recessed service pits.
The floor can be made entirely level, and the hall connects directly to the loading entrance. This space can accommodate a wide variety of uses.

Display booths and panels can be set up in both the hall and the lobby. Thus, events can be organized that utilize the hall, the lobby, and the outdoor plaza.

The 6.5-meter-high ceiling is equipped with eight light battens. The space can be customized with banners and other decorations as well as exhibition and lighting materials.
Reception Hall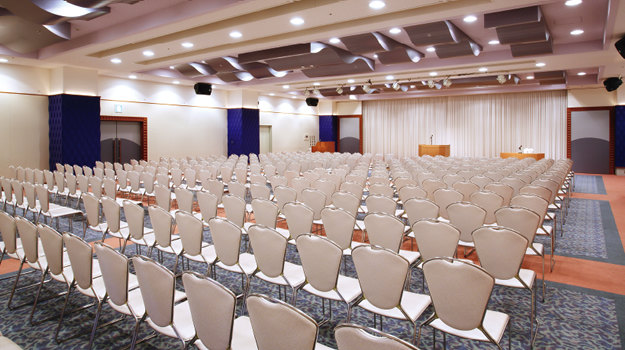 This hall is located on the second floor of Lit City Building, which is directly adjacent to the Center. It can accommodate a wide range of uses, including lectures, seminars and parties. Conference room 201 and the lobby that adjoin the hall are designed with a "wave" motif inspired by the Seto Inland Sea.

Reception hall lobby

Stage area

Waiting rooms 211 & 212

Conference room 201
Exhibition Hall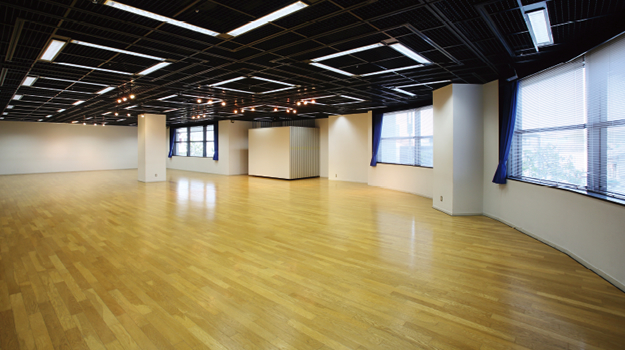 The Exhibition Hall includes 18 movable exhibit panels which can be connected to form a continuous wall display 100 m in length. In addition to displaying paintings and other artwork, the exhibition hall can accommodate theater-style and classroom-style seating, and is also ideal for parties.

Our movable exhibition panels can be arranged in a variety of heights and widths, even diagonally, for a freely customizable layout that suits your event's theme or whatever you have envisioned.

The ceiling is fitted with crosswise and lengthwise lighting ducts for installing duct rail spotlights.
Conference Rooms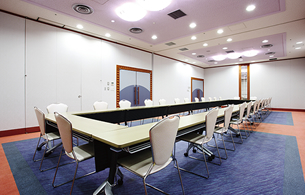 Conference room 201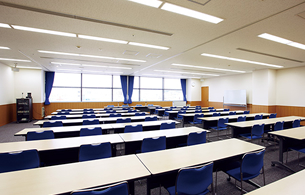 Conference room 301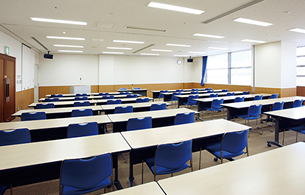 Conference room 302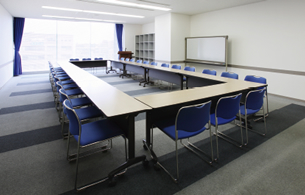 Conference rooms 401 & 402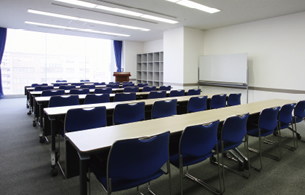 Conference rooms 403 & 404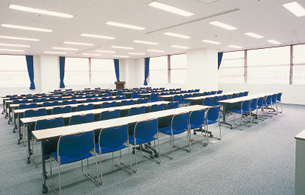 Conference room 405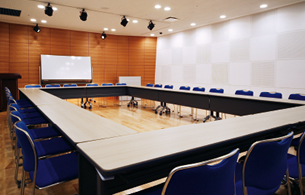 Conference room 406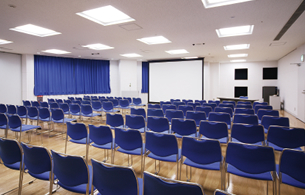 Conference room 407
Waiting Rooms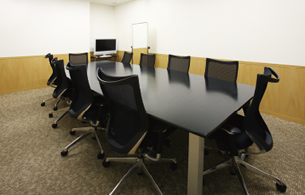 Waiting room 111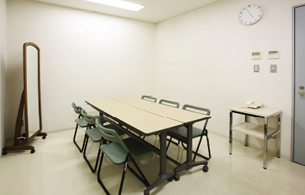 Waiting rooms 112 & 113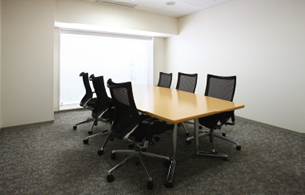 Waiting rooms 211 & 212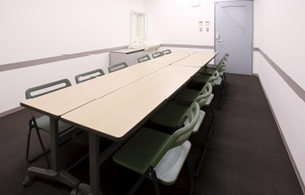 Waiting rooms 311,312 & 313 (Western-style)
Waiting room 313 (Japanese-style room)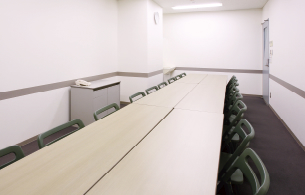 Waiting room 314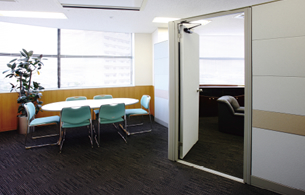 Waiting room 315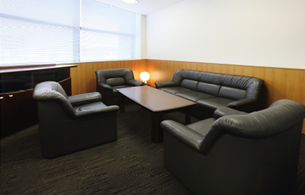 Atrium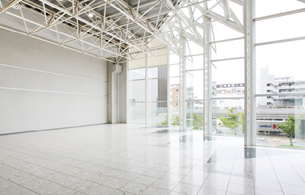 Outdoor Plaza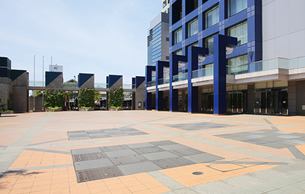 Café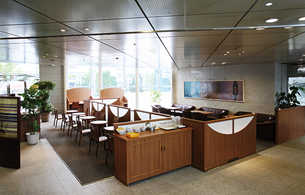 Parking